Screw Air Compressors with Permanent Magnet Motor and VFD
Screw Air Compressors with Permanent Magnet motor and VFD
Our Rotary Screw Air Compressor available in Standard Fix Models up to 335 HP and VFD Models up to 100 HP. We use PM Motor with our VFD Models, which decrease the energy consumption substantially to save even more energy as well as money.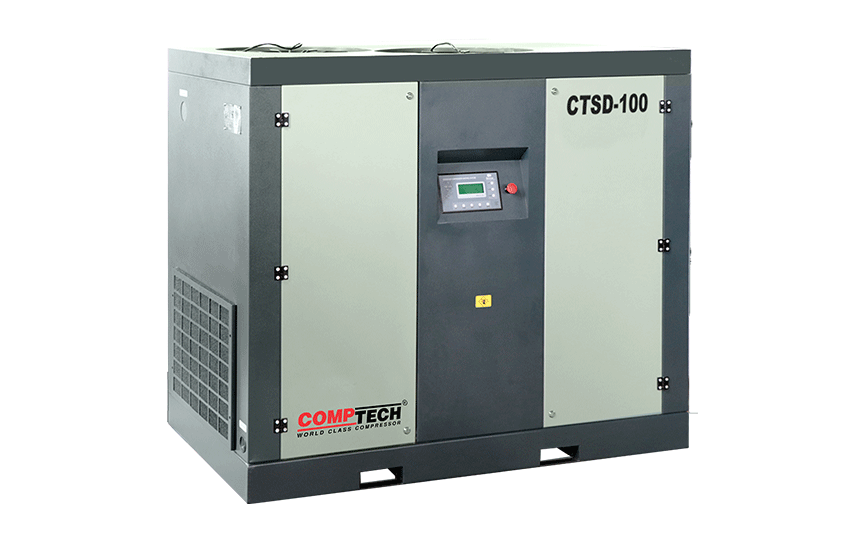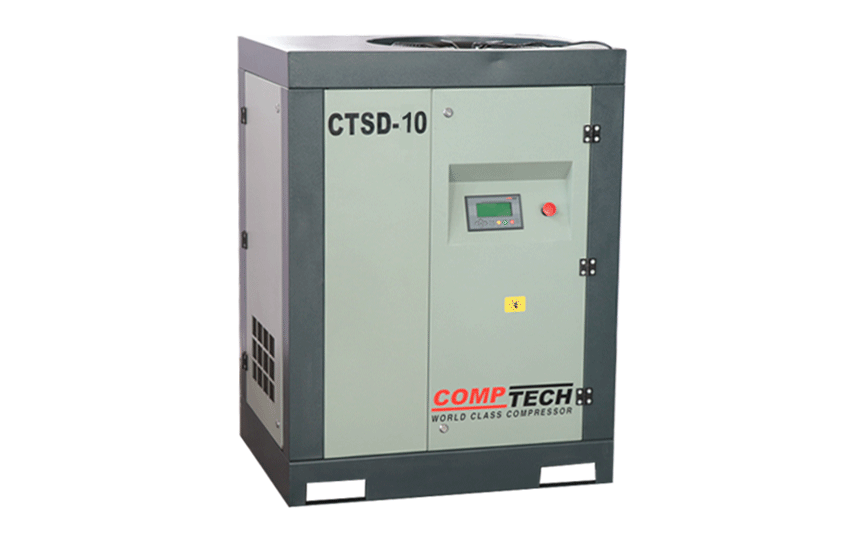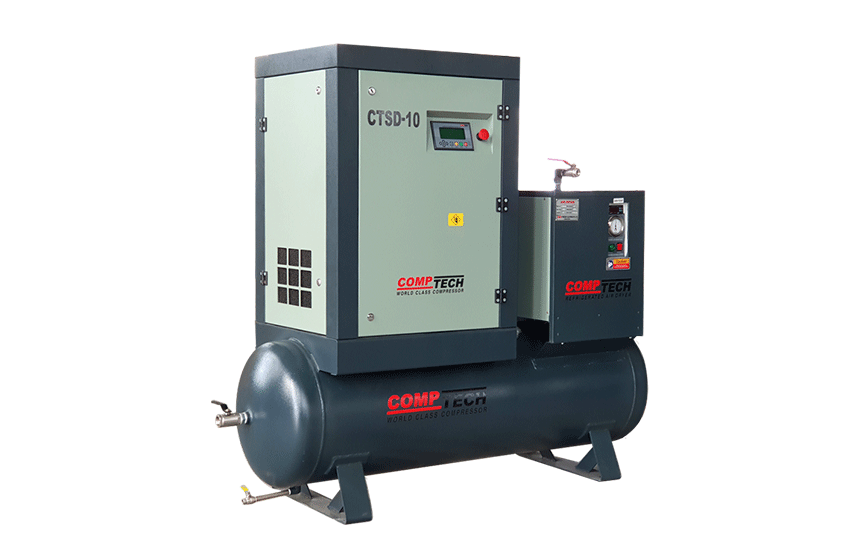 Why Comptech Screw Air Compressor?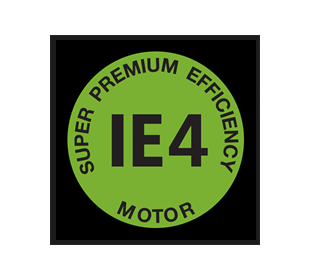 Super premium efficiency IE4 Pm Motor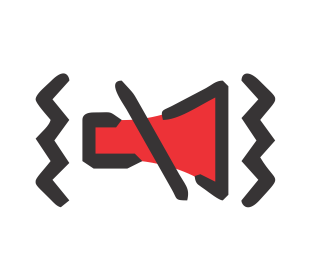 Vibration free quieter operation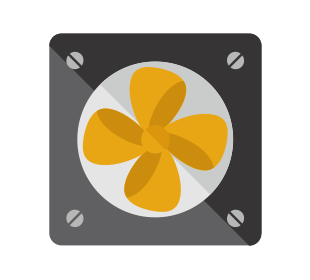 Designed for hot indian climate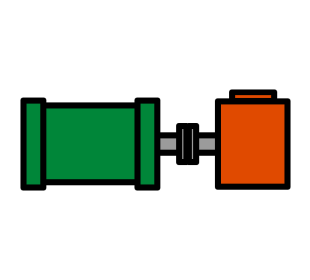 Direct drive with low rpm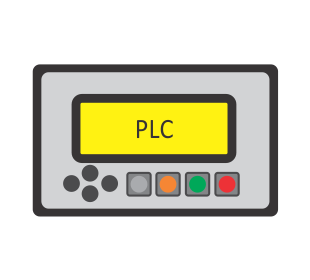 Advance PLC for easy operation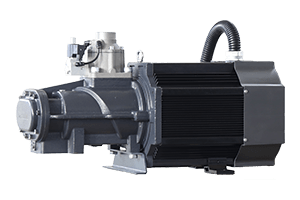 Energy Saving 1:1 Direct Drive
1:1 Direct drive reduces number of components needed in gear drive or Belt Drive, increasing reliability and durability through elimination of wear & transmission loss.
Benefits: Low maintenance & no transmission loss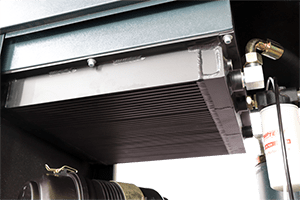 Based on the Hot Climate of India, we provide Big size, high efficient Air & Oil Cooler which increases the durability of the Compressor.
Benefits: Better Cooling & better compressor life.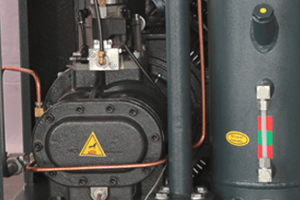 We use Seamless, long life Pipelines with best quality connections.
Benefits: Elimination of Oil Leakages.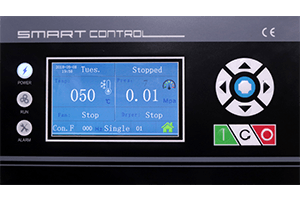 Advanced microprocessor based control system with features such as online pressure, temperature and current measurement, safety settings, online maintenance indications. It also has a unique fan control system which eliminates use of thermostats in the compressor.
Benefits: Easy and Simple operation.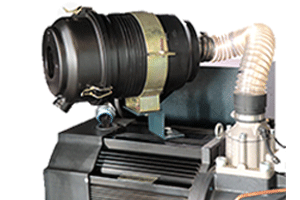 High Capacity Dual Air Filtration
Big Size, High efficient , dual filtering stage suction Air Filter for Dusty Environment of India with pre-filters, which reduces the intake of dust into the compressor.
Benefits: Lowest dust intake into the compressors.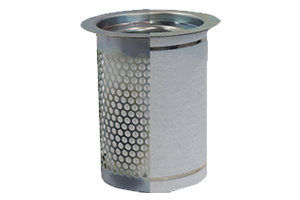 Two stage oil seperation system in which Oil is initially separated by Centrifugal force and minimal oil remains are then separated by separator element.
Benefits: Lowest Oil Carryover.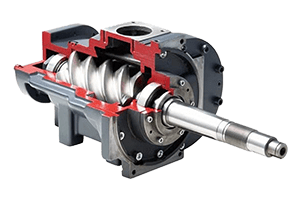 Best in Class Screw Profile
We use Premium quality Airend with high precision rotors, which operate at low RPM to provides best efficiency.
Benefits: High Efficiency Air Flow & longer life.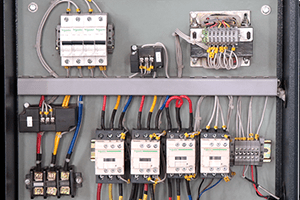 Control Panel / starter has been put in the cold zone which ensure long life operation. Switchgears and other electricals are also made of Siemens or standard quality.
Benefits: Lesser chances of electrical faults and breakdowns.
Typical Air Supply System
Air boosters take pre-compressed air from an existing network (your plant air system) or from a low-pressure compressor and increase it to the required higher pressure. A CompTech Air Booster is a specially designed reciprocating compressor that accepts elevated inlet pressures of 10 kg/cm² and boosts that pressure up as far as 40 kg/cm².
A revolution in energy saving VFD (Variable Frequency Drive) with PM Motor
With the motive to reduce the Energy cost in our Air Compressors, we now introduce Energy saving Permanent Magnet Motors with our VFD models which decrease the Energy consumption substantially to save even more energy as well as money.
High Savings Under Fluctuating Requirement
VSD ensures there will be no high current peak at the startup, as current increases gradually, which eliminates the use of heavy equipments to withstand the peaks.
Because of the narrow pressure band, the consumption at the peaks are omitted in comparison with Star Delta controls. This reduces energy consumption and provides a stable pressure.
Due to VSD, the average RPM of the compressor also reduces, which means lesser wear & tear and results into less maintenance
During Low requirement, VSD reduces the speed of motor resulting in low energy consumption. The compressor will consume just the energy for the required air it produces.
Interior PM (IPM) Motor Efficiency upto 94.5%, which outperforms Ie3 efficiency level
On Average 20% Lower specific Energy Requirement than the current VSD models
On top of energy savings, Free Air Delivery (FAD) increase up to 12% over the range
Compact small in size IPM motor has no bearings which means no wearing parts, no maintenance on motor side and no gears or belts, leading to a Transmission Efficiency of 100%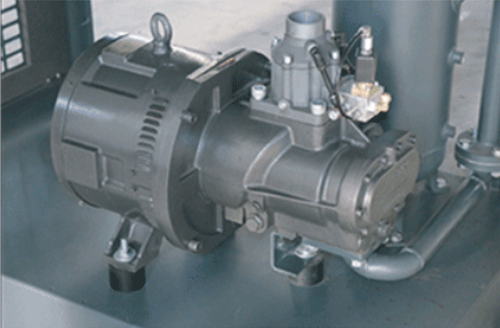 Replaced my existing compressor with Comptech VFD+ Series, which gave me around 25% savings on my Electricity Bill. Amazing Product.
Textile Manufacturing Company
Highly Recommend this product due to its Quality, Efficiency and the Service we get plays a major part.
Plastic Product Manufacturer
Using the Products of Comptech since many years now and never had any issue regarding their Product Quality or Service.